Bad Noise! fes 2011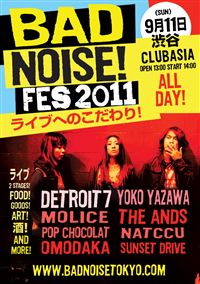 2011.09.11(sun)
@渋谷
club asia
open 13:00 / start 14:00
前売¥3,000 当日¥3,300(+1/d)

ライブへのこだわり!
15+ bad bands! 2 bad stages! Bad food! Bad goods! Bad gallery! + more!

[LIVE]
detroit7
Yoko Yazawa
Pop Chocolat
Natccu
Molice
The Ands
Red Bacteria Vacuum
Sunset Drive
Royal Cabaret (acoustic set)
Omodaka
(M)otocompo
DadaD
Opening band: Electric Eel Shock
+ more?

[バンドマンDJs]
Isamu Fujita (MO'SOME TONEBENDER)
Arie Yoshinori (VOLA AND THE ORIENTAL MACHINE)
Mika Yoshimura (BO-PEEP - first-time DJ!)
Kosuke Wakiyama (TOBACCOJUICE)
Kazuki Matsubara (THE COLD TOMMY)
Koga (KOGA Records / ROCKET K)
CeS

[DJs]
Sheee!!! & Ayaya (Bad Noise! / Sugar Candy Supernova)
Sam (Tokyo Indie)
Dan Grunebaum (Metropolis / Saiko)
Ian Martin (Call And Response Records)
Mr.MU$IC (Bar Come On Rock)
Timutaku (Alternative Current)
+ more!

[FOOD]
eetee食堂

+ more!


Peace Boat support for Tohoku
www.peaceboat.org

チケット:
Lawson (Lコード 76368)
e+


http://eplus.jp/sys/T1U14P

0010163P0108P002061311P005

0001P006001P0030001
店頭(渋谷clubasia TEL: 03-5458-2551)


To reserve tickets in English, email daniel.robson@me.com and we'll sort you out.

www.badnoisetokyo.com
www.clubasia.jp



--------------------------

-

WHAT'S BAD NOISE! FES?

渋谷clubasiaを舞台に、BAND & DJが繰り広げる ROCK & DANCE PARTY。

オーガナイザーはThe Japan Times、 NME等に記事を寄与するイギリス人音楽ジャーナ
リスト"ダニエル"



毎月、渋谷Ruby Roomで開催され、有名無名問わずライブに爆発力があ

るバンドをブッ


キングするというシンプルでクリアなコンセプトの元、東

京インディーズシーンを中
心に話題を集めているライブイベント"Bad Noise!"のスペシャル版、
それが"Bad Noise! fes 2011"

ライブ + 酒 = Bad Noise!

Tokyo's loudest independent bands will converge for one glorious day, when Bad Noise! fes 2011 takes over Shibuya clubasia.

The monthly Bad Noise! live shows at Shibuya Ruby Room are becoming the stuff of underground legend. Organiser and music journalist Daniel (The Japan Times, NME) is careful to only book explosive bands, served with cold beer and a party vibe. We'll bring this same ethos to 11 September's special all-dayer.

The best noise is Bad Noise!



--------------------------

-

ABOUT THE BANDS

detroit7 - World-beating garage rock trio - www.detroitseven.com
Electric Eel Shock - World-conquering, semi-naked punk-metal dripping with humour -www.electriceelshock.com
Yoko Yazawa - Party-starting glam'n'roll chick - www.yokoyazawa.com
Pop Chocolat - Sweet and sour guitar pop - http://popchocolat.com/
Natccu - Tokyo's post-pop princess - www.natccu.com
Molice - Dark dancefloor indie grooves - www.themolice.com
The Ands - Fresh-faced alt.rock hunks - www.theands.jp
Red Bacteria Vacuum - Balls-out hard-rock heroines. Enjoy! - www.red-bacteria.com
Sunset Drive - Half-NZ, half-Japanese garage trio - www.sunsetdrive.jp
Royal Cabaret - Risque rock for pervy people (special acoustic set) - www.royalcabaret.com
Omodaka - Enka-enhanced 8-bit audio overload - www.fareastrecording.com
(M)otocompo - All-boy spin-off from new-wave masters Motocompo - www.facebook.com/otocompo
DadaD - Offbeat mix of acoustic guitars and electronics -

www.myspace.com/xxxdadadxx

x

MORE COMING SOON!!!